2016 BCCPA Award Winners Announced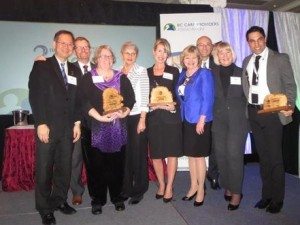 BCCPA Members Invited To Attend Special Awards Ceremony in Victoria – Health Minister Terry Lake Will Present Awards
The BC Care Providers Association (BCCPA) is pleased to announced the winners and finalists for the 2016 BCCPA Annual Awards.The 3rd Annual Awards Ceremony will take place on Feb. 15 from 6-9 p.m. in the Palm Court at the Fairmont Empress Hotel in Victoria.
Every day front-line workers, staff, and care providers across B.C. engage in challenging and inspiring work. The BCCPA celebrates their dedication, innovation and excellence within the continuing care sector.
Ed Helfrich Long-Service Excellence Award
Awarded to a member owner/operator or a member employee/contractor who has a 15+ year industry track record of developing and delivering quality care for individuals in care.
Winner: Arnold Bennewith, Owner, Willingdon Care Centre, Burnaby, B.C.
After he sold his restaurant business in the early 1980's, Arnold Bennewith worked in sales to sell chemicals to care homes. In 1984 while speaking with Wally Chiakowski, the owner of Sherwood Crescent Manor in Abbotsford, Wally asked if he was interested in partnering in a future care home. In 1986 Wally and Arnold bought Willingdon Private Hospital in Burnaby. In 1991 he bought Wally's interest in Willingdon. In 2005 Arnold was awarded a contract by Fraser Health for The Residence at Morgan Heights in South Surrey. In 2006, he was awarded another contract which became The Residence at Clayton Heights in North Surrey.
BC Care Provider of the Year
Awarded to a front-line care provider employed by one of our members who has demonstrated a commitment to quality, compassion and excellence in delivering care to one or more of our residents and/or clients.
Winner: Irene Lien, Northcrest Care Centre, North Delta, B.C.
Irene Lien is a housekeeper on the special care unit at Northcrest Care Centre where resident behavior is very challenging. There are many residents on the unit who have reverted to their first languages. Irene goes over and above the call of her housekeeping duties by taking the time to listen to residents, to provide them with personal attention and by learning enough of their language to engage residents in social conversation. Irene engages residents and encourages them to 'assist' her in an attempt to add meaning to their daily lives.
"She provides invaluable service and support to the residents and families of Northcrest Care Centre," says Sue Emmons, Executive Director of Northcrest Care Centre. "Irene is a positive influence at Northcrest Care Centre through her own positive and conscientious approach to her job."
Finalists:
Ashley Aujla, The Harrison at Elim Village
Angela Jupe, Nanaimo Seniors Village
Heike Long, Good Samaritan Society
Sabine Weidemann-Warstat, Good Samaritan Society – Hillside Village
Anira Llanto, Bayshore Home Health
Innovation of the Year
Awarded to a member care provider or one of their employees who can demonstrate an innovation they have developed or introduced within the sector or their place of employment to improve the quality of care delivered.
Winner: Vikki Marrs, Hillside Village & Pioneer Lodge – Good Samaritan, Salmon Arm, B.C.
Vikki Marrs is always looking at ways to innovate. She spearheaded the development of two innovations at Hillside Village and Pioneer Lodge. The first is a support booklet for residents' families designed to communicate the limitations of complex care versus care in a household environment and address some of the transition issues that happen when a person comes into care. The booklet provides basic tools and suggestions for supports where necessary.
The second innovation is the implementation of Doll Therapy. Vikki has created an artificial doll that looks like real baby that is successfully used by front-line staff to deal with aggressive residents. It is a creative support option to residents with challenging behaviour.
Details
The BCCPA Annual Awards ceremony is open to all BCCPA members. We encourage anyone who wants to come and support this year's winners to attend.
Date: Monday, February 15, 2016
Time: 6:00 p.m. – 9:00 p.m.
Location: Fairmont Empress Hotel – Palm Court, 721 Government St., Victoria, B.C.
Price: FREE for BCCPA members (stand-up dinner reception & complimentary drink ticket included)