BC Care Awards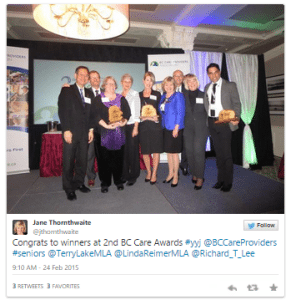 Over 100 guests including care providers, industry stakeholders, and 30+ MLAs attended the second Annual BC Care Award on Monday. Hon. Terry Lake, Minister of Health provided the keynote speech and presented the awards for the second year in a row.
The four recipients received the award for outstanding service in the continuing care sector of BC.
The formal presentation kicked off with a performance by the acclaimed Gypsy Jazz quarter, Van Django. The show was provided by Concerts in Care, an organization which has delivered over 8000 professional concerts to residential care homes and health facilities. Click here for the Global BC segment on an outdoor concert co-hosted by the BCCPA and Concerts in Care earlier this summer.
Following the concert Daniel Fontaine, CEO, BC Care Providers Association took the stage to provide opening remark and introduce Lake. Lake took to the podium to provide his keynote speech in which he offered a recap of some of the key achievements of the sector over the past year. Among those key achievements, Lake proudly stated how BC has amongst the longest life expectancy in the world at 82.2 years. Lake attributed much of this achievement to the outstanding work of continuing care providers each and every day.
"[The] positive health outcomes for older adults, are linked to the work each of you is doing on a daily basis to meet the physical, emotional and psychological needs of seniors in care," said Lake.
However Lake emphasized that this accomplishment is only more motivation to continue to improve the quality of care.
"But our province's high ranking or any of our successes are not a reason for us to slow down our work, but rather an opportunity to continue to provide better care."
Lake concluded his keynote speech by recognizing the dedicated work of care providers across the province and in particular the four recipients of the 2015 BC Care Awards.
BC Care Awards Generate Twitter Talk
Among the packed crowd were a number of MLA's and government employees who took to twitter to tweet about the event.
Wonderful to meet Wendy Miller @bccareproviders Care Provider of the Year @darrylplecas pic.twitter.com/qh2mZWCdeq

— Terry Lake (@TerryLakeMLA) February 23, 2015
Congratulations to Wendy Miller for winning. BC Care Provider of the Year award !!@BCCareProviders. pic.twitter.com/BPeSps6J61

— Linda Reimer (@LindaReimerMLA) February 24, 2015
Pleased to present awards to 4 winners at BC Care Awards tonight in #YYJ. @BCCareProviders @FairmontEmpress #seniors pic.twitter.com/XfF2D39fzw

— Terry Lake (@TerryLakeMLA) February 24, 2015
Attending @BCCareProviders Awards w/ Hon @TerryLakeMLA, celebrating the exceptional people who look after our seniors http://t.co/mDh7SNdPGk

— Ralph Sultan (@ralph_sultan) February 23, 2015
What a pleasure to meet Bayshore HomeSupportWorker Wendy Miller, worthy recipient of @BCCareProviders award! #seniors pic.twitter.com/ki6LWt712q

— Judy Darcy (@DarcyJudy) February 24, 2015
Earlier in the day, a delegation of Board directors, senior BCCPA staff, front-line care providers and family members of those in care visited the BC Legislature. They held a series of meetings with Minister Lake, government and opposition MLAs to discuss issues pertaining to the continuing care sector.
Planning is already underway for next year's delegation day and awards ceremony. We encourage you to submit your nominations for the 2016 BC Care Awards today!
Also, stay tuned for an upcoming video interview with Ed Helfrich Long Service Excellent Award recipient Keith Anderson.