Join us at BIG BC BINGO this weekend (October 1st)
The first-ever BIG BINGO event is this Saturday at Hastings Racecourse located on the PNE grounds. Six BC charitable organizations are hosting this exciting BINGO extravaganza with 3 unique sessions with doors at 9:30 am, 2:30pm, and 5:30pm. BCCPA/EngAge BC staff will be in attendance to share information about the Seniors Living Expo.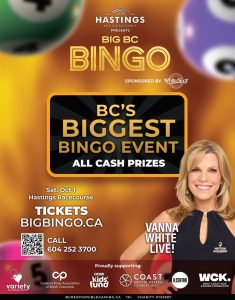 There will be surprise guests, fun, fantastic cash prizes and philanthropy all rolled up into one great day with 3 unique gaming sessions. Vanna White from Wheel of Fortune will be our special guest live and VIP meet and greet opportunities will be made available.
This exciting BINGO extravaganza will offer special seating for mobility challenged guests and their care giver/aides, as well as dedicated volunteers to make the experience for all second to none.
Presented by Hastings Racecourse and sponsored by White Spot Restaurants and the BC Care Providers Association – The BIG BC BINGO is putting the FUN into FUNDRAISING for Variety BC, Cerebral Palsy Association of BC, CKNW Kids Fund, Il Centro, Coast Mental Health Foundation, and West OCast Kids Cancer Foundation.
Join us for an amazing day of BINGO fun. Tickets available direct through www.bigbingo.ca.
If you have any questions and or concerns, please feel free to reach Howard Blank at (604) 928-6066.