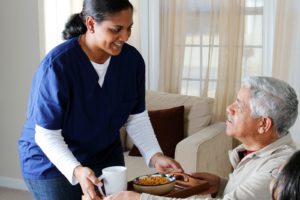 BC Care Providers Association works on behalf of our province's growing home care and home support providers of seniors care.
Our home care membership currently represents over 50 percent of the payroll of home care providers in the province of B.C. In 2016, we experienced a 25 percent growth in the number of home care members at BCCPA.
We have assembled a list of just a few reasons why as a home care provider you should become a member.
Ten Reasons Why Home Care Providers Should Join BCCPA
BCCPA maintains two full-time members of our board as representatives of home care;

BCCPA conducts annual home care sector roundtables with our members to assist our advocacy;

BCCPA has been the leading agency working with Ministry of Labour to modernize employment standards for live-in-care providers, which is to be implemented sometime later in 2017;

BCCPA were champions for the creation of SafeCare BC, who now have a mandate funded by WorkSafeBC to train care home care workers in order to reduce workplace injuries and employer premiums;

We are working on a significant home care policy review to be released early in 2018;

We are in the early stages of determining the feasibility of developing a self-regulating model for home care;

We are the only organization who asked the government for and achieved a commitment of significant funding to train and recruit over 1,500 care aides;

We have several committees made up of members and board directors focused on policy, member engagement and quality of life issues that are always looking for new volunteers;

When issues arise that affect the home care sector, we take these concerns directly to organizations such as Health Employers Association of BC, Ministry of Labour, Ministry of Health, and WorkSafeBC;
 If you have further questions or wish to make an inquiry about membership, please contact Lily Nguyen at lily@bccare.ca.