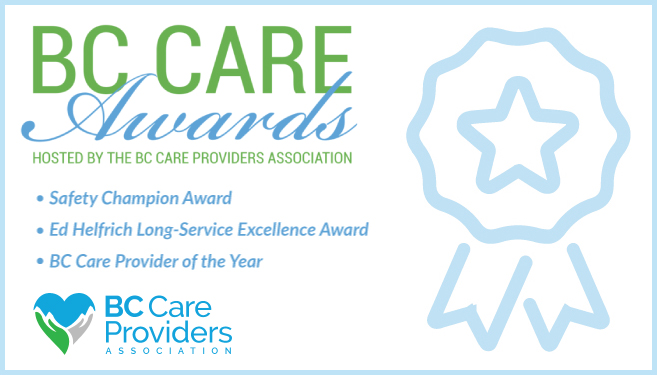 Every day front-line workers, staff, and care providers across B.C. engage in challenging and inspiring work. The BC Care Providers Association celebrate their dedication, innovation and excellence within continuing care sector across the province at our annual BC Care Awards ceremony in Victoria.
Submission Requirements
Nominators must demonstrate they are members in good standing of the BCCPA at the time of submitting the nomination.
Nominees must be a member in good standing with the BCCPA or employed by a member in good standing.
Once the deadline has passed, no further information can be submitted to the Adjudication Committee in relation to the nomination.
Award winners will be notified in advance that they have been selected. They will also be asked to attend a special awards ceremony in Victoria, BC in February.
The finalists will be required to sign a release allowing for BCCPA to publicize their photo and other information pertaining to the award.
How are winners selected?
BCCPA's Events and Recognition Committee will meet in early December to review nominations.
Nominees will be judged on how best they align with the stated criteria and intent of the award.
Final award recipients will be recommended by the Events & Recognition Committee and will be approved by the BCCPA's Board of Directors.
Nominations
Deadline to submit nominations is December 1st, 2017.
Contact: Cathy Szmaus, Director of Events & Administration
Office: 604-736-4233 X 226 E-mail: cathy@bccare.ca
Award Categories
Safety Champion Award (New!)
The Safety Champion Award recognizes and celebrates individuals and member organizations who are passionate about promoting a culture of safety, and whose efforts have had a significant impact—something that has made, or continues to make a difference in supporting our shared goal of seeing every worker return home safely at the end of day.
Everyday, there are people and organizations making an exceptional difference to health and safety in the workplace. The BCCPA wants to recognize them.
Eligibility Criteria
Works as staff in a residential care, home care or assisted living setting.
Has consistently demonstrated a dedication to safety in their organization.
Is ideally involved in their organization's Joint Occupational Health and Safety Committee.
Has demonstrated safety leadership on the job in the form of peer-coaching, making safety recommendations, or taking an active role in supporting organizational safety initiatives.
Is deserving of public recognition because of continuous excellence in bringing safety to their role.
Has attended workshops, or pursued other educational opportunities in safety.
Ed Helfrich Long-Service Excellence Award
This award celebrates a member owner/operator or a member employee/contractor who has a 15+ year-industry record accomplishment of developing and delivering quality care for individuals in care.
Eligibility criteria
Has demonstrated a commitment to supporting the continuing care sector.
Their years of service can be in broken periods, but the time involved must add up to at least 15 years.
Is presently working in the sector or retired from the field.
BC Care Provider of the Year (Home Care & Residential Care)
Awarded to a front-line care provider employed by one of our members who has demonstrated a commitment to quality, compassion, and excellence in delivering care to one or more residents and/or clients.
Eligibility Criteria
Specific examples must be provided to help support how the employee demonstrated a commitment to quality, compassion, and excellence.
Examples cited must go beyond the average daily interactions between an employee and individuals in care.
Demonstrate how this commitment may have already been recognized by their colleagues, supervisor, resident, or a member of their family.
* * *
2016 BC Care Award Winners
Thank you to all who submitted nominations for the 2016 Awards. Click here to see all of our posts featuring everyone who was recognized – including our nominees and runner-up for Care Provider of the Year.
| | |
| --- | --- |
| Care Provider of the Year (home care):   | Mari Green – Beacon Community Services |
| Care Provider of the Year (residential): | Tasia McLean Warren – H&H Total Care |
| Innovation of the Year: | Bruce Devereux – Good Samaritan Society |
| Ed Helfrich Long Service Excellence Award:  | Tom Crump |