5 reasons why you should make your way to MyCareFinder.ca
Choosing care for yourself or an aging loved one is a complex and personal choice.
Senior care options are not "one size fits all," and a variety of factors must be considered when you look for the most suitable type and level of care for yourself or a family member.
MyCareFinder, an initiative of the BC Care Providers Association, streamlines the early steps of the process by helping you identify the best care options in B.C.
Here's why it's worth exploring what MyCareFinder has to offer.
1. It helps you prepare.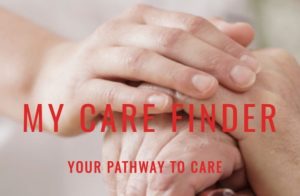 When it comes to finding care for yourself or a family member, planning is crucial. Planning ahead makes you and your family better prepared to face some inevitable decisions. With MyCareFinder you can review the best care options available, and learn how you can access those options when the need arises.
Taking an honest look at your family member's medical conditions and care necessities will give you a better idea of the level of care that would be the best fit for them.
Being placed in a nursing home facility is a common concern expressed by seniors. From residential care and assisted living facilities to home care and support, MyCareFinder shows you there are many options—apart from nursing homes— that suit your particular needs.
2. It's practical.
Using MyCareFinder is straightforward to use. The Google Maps tool on the website allows you to peruse available options based on your unique requirements. The one-of-a-kind care home listing is user-friendly, and shows you publicly-subsidized and unsubsidized residential care beds and assisted living units, in addition to home care and support providers all over B.C.
3. It makes finding care easy – and right in your community.
MyCareFinder simplifies what can often be a complex process.
The comprehensive list of care options also shows you whether the care provider is government- or privately-owned, the services they provide, the languages they are able to communicate in, and the best way for you to reach them.
Once you've narrowed down your options, you can directly contact the care provider you're interested in to find out more about their services, or to arrange for unsubsidized care.
If you would like to arrange for publicly-subsidized care for yourself or a loved one, you can contact the Home and Community Care Office of your regional health authority directly.
4. It provides essential supplementary information.
MyCareFinder goes beyond helping you find suitable care options. It essentially acts as a guide to help you navigate complex information so you can select the right setting for yourself or others. It defines various care options, and outlines other factors you should take into consideration before making a decision.
5. It shows you care options you can trust.
MyCareFinder lists only members of the BC Care Providers Association. All members of the BCCPA agree to adhere to a Code of Ethics that requires they conduct all activities with honesty, integrity, respect, fairness and good faith.
Care providers are expected to provide satisfactory facilities, and serve their residents or clients to the best of their ability, which includes respecting their physical, mental, spiritual and cultural needs, as well as ensuring their safety. The code ensures you or your loved ones are in safe hands, and receive the best care possible.