Ladner couple celebrates 74th anniversary
Jack and Bernice Ross marked their 74th wedding anniversary earlier this month.
The couple live at the West Shore Laylum residential care facility in Ladner. Their daughter Joan Hansell said her mom was still in high school and her dad was a butcher boy at the time they met.
"He used to pick her up and ride her [around] on his bike," she said.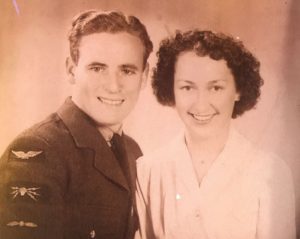 Both born in Vancouver, they've lived in Ladner for nearly 50 years, she added.
Hansell said Jack, who turns 95 in March, served in the air force and later worked for Spilsbury & Tindall, a radio/communication company.
"Dad was always a gogetter," she said, adding he also filed a patent for a speed control device for use in cars.
Jack and Bernice, who just turned 93, have lived at West Shore Laylum for about two years.
They have three children, three grandchildren and four great grandchildren.
"From our perspective, it's so nice we were able to keep Jack and Bernice together here. You hear so often these people end up being split up and put into different nursing homes," said West Shore Laylum's Cathy Mason.
Byline: Dave Willis, Delta Optimist