BC Care Awards: Call for Nominations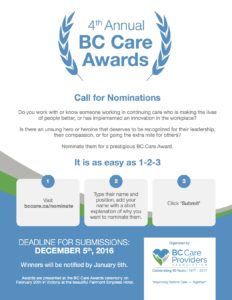 We are reaching out to BCCPA members to help us identify those who are working in BC's care sector that deserve special recognition at our upcoming BC Care Awards ceremony, held in Victoria on February 20th.
We are seeking those individuals on your staff whose efforts are making the lives of people better, or are driving important innovation in the workplace. We want to celebrate the "unsung" heroes or heroines who deserve recognition for their leadership, their compassion, or for going the extra mile for others.
It's as easy as 1-2-3. Visit www.bccare.ca/nominate for more info.
The deadline for submissions is December 5th. Only BCCPA members [service provider & commercial] are eligible to nominate someone. Help us promote the nominations process by downloading our promotional poster, and hanging it on your staff bulletin board. Click here to download poster.