MyCareFinder Update: What Users Are Saying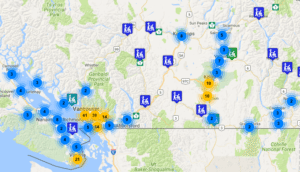 The website launched by BC Care Providers Association last spring has taken on new relevance in the face of a recent controversy over a couple, who after 62 years of marriage, were struggling to find a place where they could live together. In a string of recent media interviews on the topic, BCCPA CEO Daniel Fontaine suggests that MyCareFinder.ca is a user-friendly free tool to help with their search for care.
Since we launched the site last April, we have seen a steady increase in traffic, as well as a growing list of Facebook "likes" for the MyCareFinder page (over 300 as of this week). In an earlier web post we provided a side-by-side comparison to another similar tool created by the BC government.
MyCareFinder is a tool that will evolve over time, based upon user feedback. It is through sites like Facebook that we are able to receive input and ideas that will help us to improve this tool. One thing we heard from users is how the markers made the map look too busy when zoomed out. We chose to add a "clustering" feature that assembles several markers into a single point, which only become visible when you zoom in.
Lara Croll, BCCPA Policy Analyst, is responsible for maintaining the site, overseeing the monthly content updates, and monitoring user feedback. From her vantage point, MyCareFinder is progressing well.
"After 5 months of operation it is good to see that MyCareFinder has attracted an audience of users, some who are giving us feedback on how to make it more useful to them. The clustering feature is a direct result of that feedback, and I expect there will be future optimizations," says Croll.
We have assembled some of the user feedback we have received about MyCareFinder, which we are sharing below.
***
"Thanks for the wonderful resource you have created for seniors and their family members."
"This website is a great idea.  However, I'm having problems with your map."
"I want to find out what facilities are in the West End.  Looking at the map, there are so many locations it's impossible to click on any one indicator.  They're piled on top of each other.  Tried doing a search under the map 'West End Vancouver' – no results at all.  So the map isn't useful for me."
"Would be useful if I could search for a specific area like West End Vancouver, or if there are listings on the website with the various headings – West End Vancouver, North Vancouver, West Vancouver, Surrey, Delta, etc. and then the map shows only those areas of specific interest to the user."
"This seems to be a useful site but I had difficulty making my Android tablet accept the capitals in the address. The Firefox browser automatically changed them to lower case. The same happened on my Linux desktop. When I did get in, the desktop map would not expand independently of the page using the scroll wheel so that the pop up info window was vastly over magnified and the navigation buttons not visible. Perhaps an instruction NOT to use the scroll wheel would help unless you can standardize that action. Chrome seems to work OK but with the same caveat. An excellent application, obviously a needed one but with some teething problems. Thanks."
"This facility has unsubsidized beds. It is private. Also thanks for the work on putting this information together. A great start on explaining a complicated story."