BCCPA Launches MyCareFinder.ca to Assist Seniors Access Care Services in B.C.
MyCareFinder.ca is a mobile-friendly free service which provides users with an exclusive up-to-date listing of vacant residential care beds using Google Map technology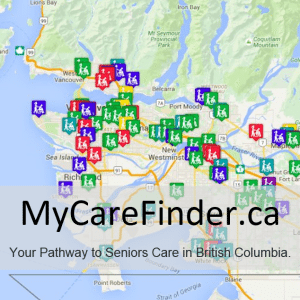 The BC Care Providers Association (BCCPA) launched a new interactive microsite today which serves as a unique and easy way to locate care for seniors across British Columbia. This exclusive, one-of-a-kind Google Maps database provides users with local information regarding a number of seniors care services including assisted living, 24-hour residential care and support services in single family homes and apartments.
MyCareFinder is a made-in-B.C. solution that helps people navigate their way through a complex system and provides access to the necessary care – when and where it's needed. The site makes it easy to find the care you need directly in your community.
"With a rapidly ageing population, we want to help seniors and their families more easily navigate their way through all the clutter," says BCCPA CEO Daniel Fontaine. "The transition from a single family home into a complex care setting or simply trying to access home support services can be a stressful time in someone's life. MyCareFinder is intended to make that process just a bit easier while providing vital information to seniors and their loved ones."
MyCareFinder provides seniors and their families with the following information:
Complete listing of all BCCPA residential care, home care and support member sites including a web URL link to their individual websites.
Complete listing of all government-owned residential care homes.
Partial listing of member sites including vacant residential care beds or assisted living units.
Listing of all member unsubsidized private pay residential care beds and assisted living units.
A definitions page to help better understand the continuing care sector terminology.
MyCareFinder also has an easy-to-follow guide on how to arrange for different types care, a list of helpful statistics related to seniors care in B.C., key information sources for care needs and a list of frequently asked questions.
"Congratulations to BCCPA for the launch of MyCareFinder," says Sherry Baker, Board member for the Seniors Services Society and Executive Director, BC Association of Community Response Networks. "This will prove to be a valuable tool for families, care providers and older adults in finding housing options and the availability of spaces in communities throughout B.C."
In a 2015 report to the Government of BC, the BCCPA made a series of recommendations that helped to form the framework for the establishment of MyCareFinder.  One of the recommendations requested:
That, as an immediate priority, the Ministry of Health and Health Authorities work with the BC Care Providers Association (BCCPA) and other stakeholders to develop strategies to better utilize the existing excess capacity in the continuing care sector to reduce alternate level of care (ALC) beds, offset acute care pressures as well as better care for frail elderly and seniors with Dementia. Strategies should include the creation of a public registry to report on ALC and vacant residential care beds as well as use of current vacant beds within residential care, assisted living units and home support services to reduce acute care pressures.
MyCareFinder is an initiative of the BC Care Providers Association. It will become an adjunct to the established Seniors Housing Directory of BC which is hosted by the Seniors Services Society in New Westminster.
Membership with the BCCPA is voluntary, and not all care providers in the province are members. Only members of the BCCPA & government owned-operated care services are listed in MyCareFinder. All members of the BCCPA voluntarily agree to adhere to an enhanced Code of Ethics.