Seniors Care for a Change Report – One Year Update Released
The BC Care Providers Association (BCCPA) is providing its members with a one-year progress update on the report it released on July 14, 2014, entitled Seniors Care for a Change. The Seniors Care for a Change report outlined various examples of excessive regulations and other challenges affecting care homes on a daily basis. In particular, the report provided real-life stories of the increasingly complex regulatory and policy environment facing care providers across the province. Overall, the report included five key recommendations to help improve British Columbia's continuing care sector, including:
1)      Strengthen client payment and collection of outstanding debts;
2)      Develop a new funding model of government's role in care;
3)      Implement a person-centred approach to care;
4)      Reduce overlap with the investigation and inspection process; and
5)      Streamline and standardize reporting and data collection.
Within these five key areas, the report outlines fifteen specific recommendations in areas such as debt collection, improving the existing funding model and the RFP process, reducing unnecessary regulations, reforming the Care Aide Registry, and streamlining reporting requirements.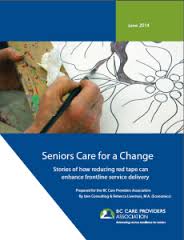 The BCCPA has discussed the Seniors Care for a Change report a number of times with the Ministry of Health including attending a meeting in November 7, 2014 with a number of key representatives from the BC Health Authorities and the Ministry of Healthy to discuss opportunities to develop solutions regarding issues faced by front-line care providers. At this meeting, the creation of a new Continuing Care Collaborative comprised of key stakeholders from the sector was also discussed.  The BCCPA has also provided the Ministry an opportunity to review and provide any feedback to the progress report.
One-year Progress Report
Along with providing some commentary, the one year progress report released today by the BCCPA highlights the progress on each of recommendations using color coded ranking, with red indicating little to no progress made; yellow where some progress made; and green where good progress has been made. Overall, two-thirds of the recommendations received a red ranking, with the remaining five either green (2) or yellow (3).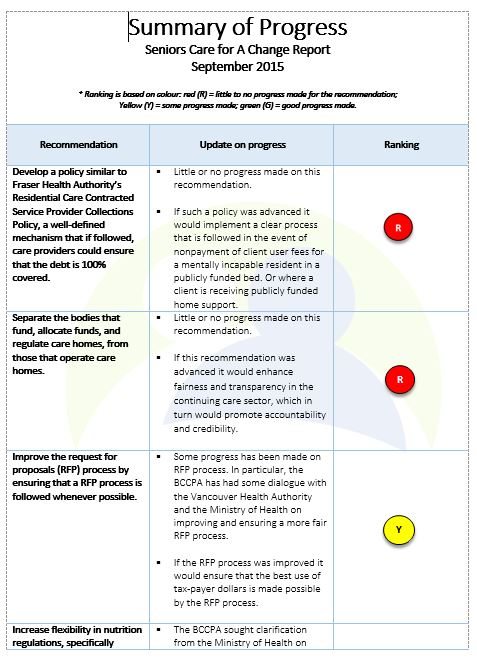 "While the BCCPA is disappointed that there has been a lack of significant progress overall, we are pleased that some positive action is being undertaken in key areas such as the Care Aide Registry, and clarifying regulations related to nutrition and the Cremation, Internment and Funeral Services Act," says Michael Kary, BCCPA Director of Policy and Research. Kary also notes, "we hope to address these and other issues through ongoing dialogue including the Collaborative."
Along with continuing to advocate for reducing unnecessary red tape and regulations through the creation of a Collaborative, the BCCPA is preparing to respond to the BC Ministry of Health policy papers released earlier this year, as well as consultations scheduled for the October on potential changes to BC's health system including continuing care.
Member of the BCCPA? Download the one year progress report by clicking here.