Engineer Makes Career Shift to Senior's Care
Born in Newfoundland, raised in Alberta and then moved to Vancouver at the age of 16, Richard Fitzpatrick spent his childhood crossing Canada and now works for the Greater Vancouver Community Services Society (GVCSS).
While he may have begun his adult career by acquiring his degree as a metals and materials engineer, the recession led him into working in community social services with developmentally disabled adults. After 2o years he has found himself drawn into the senior care sector and is able to use his organizational abilities and people skills as a scheduler.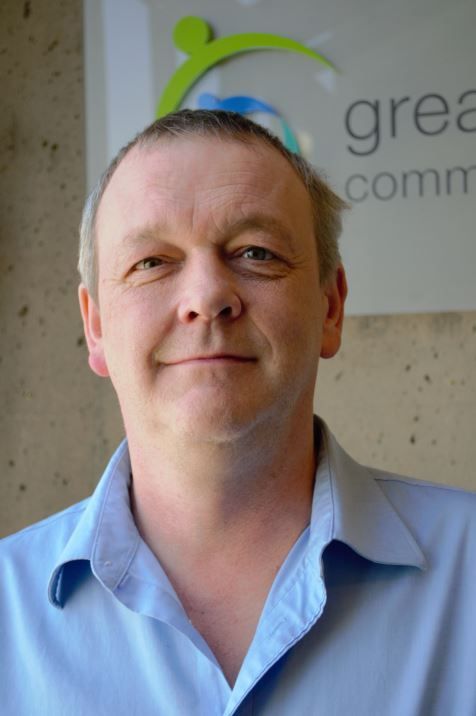 His role offers challenges and proves to be a vital link between the seniors and their care providers. He finds the interactions with clients, their families, and staffs are the most rewarding aspect of his career. Finding the ideal match while considering both time constraints and personal needs becomes the ultimate goal.
"It's sort of like a multi-dimensional puzzle of putting the square peg in the square hole, except with a lot more things involved." he explains. "I know I can't make everybody happy but I certainly try to make as many people happy as I possibly can."
Maintaining a relaxed and organized attitude has created a comfortable working environment for Richard and his team, while allowing them to achieve their objectives. His rules to live by definitely embrace this attitude.
"Don't worry about it, just let stuff go. Be honest and don't worry, things will take care of themselves," Richard says.
"Working with Richard is great. He's an experienced and level-headed supervisor and really supportive to everyone that he works with, from the community health workers on his team to his fellow supervisors and nurses," said Jennifer Newman, Richards work colleague.  "He's always willing to help out and is a pleasure to work with. We know that we're very lucky to have him at GVCSS."
Richard is always willing to help out and is a pleasure to work with
Finding his perfect career fit, meant a combination of seeking job satisfaction and knowing that what he does is important. Although Richard does admit that recruiting young workers to the field can prove difficult, he definitely has great advice to give those entering this career.
"Be ready to deal with different challenges every day and take measures to deal with stress appropriately," he said.
While not working, Richard can be found on a sunshiny golf course or immersed in computer games and he enjoys the literary science fiction and fantasy works Piers Anthony.
– Written by Angela Holubowich for the Seniors Care HR Planning Committee. Funding for this project was provided by the Canada-British Columbia Labour Market Development Agreement